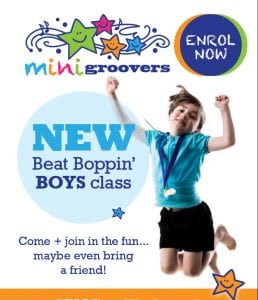 YES!!
It's one for the boys.
A 3-5yrs  Beat Boppin' dance class   (FOR BOYS ONLY)
WEDNESDAY AFTERNOONS
1.25PM TILL 2.10PM
AT ST. JOHN'S HALL
(CORNER CENTRE& TUCKER ROADS)
A FUN DANCE CLASS FOR BOYS ……. they will improve on their:
fine motor skills and co-ordination
musicality and rythym
flexibility
listening skills
and build on confidence in a comfortable environment.